8 Heroes delicious recipe for dinner.
Prep time: 30 minutes Total time: 1 hour 30 minutes Yields: 6 servings
Ingredients
2 tbsp olive oil
1 onion
4 carrots
1 red pepper
1 yellow pepper
1 tbsp brown sugar
5 button mushrooms
2 cups of broccoli florets
1 zucchini
handful of spinach
1 can red kidney beans
1 can diced tomatoes
2 tbsp tomato paste
pinch of salt and pepper
½ tsp dried garlic
½ tsp dried basil
½ tsp dried oregano
½ tsp dried thyme
150 g pasta
1 litre vegetable stock
1 tbsp 8 Heroes Super Mix
Directions
Warm 2 tablespoons of the olive oil in a large Dutch oven or stockpot over medium heat.
Once the oil is shimmering, add the chopped onion and sauté until soft and translucent. Add 1 tbsp of brown sugar and caramelize the onion.
Chop your vegetables (carrots, peppers, mushrooms, and zucchini) and add them to your pot. Season with a pinch of salt and pepper, cook, stirring often until the vegetables have softened, about 7 to 10 minutes.
Now add all the seasoning (tomato paste, dried garlic, basil oregano, thyme, and 8 Heroes Super Mix). Cook until fragrant while stirring frequently, about 2 minutes.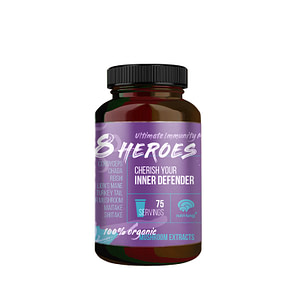 Pour in the diced tomatoes and their juices and vegetable stock.
Raise heat to medium-high and bring the mixture to a boil, then partially cover the pot with the lid, leaving about a 2 centimeters gap for steam to escape. Reduce heat as necessary to maintain a gentle simmer.
Cook for 15 minutes, then remove the lid and add the pasta, beans, broccoli florets, and spinach. Continue simmering, uncovered, for 20 minutes or until the pasta is cooked al dente and the greens are tender.
Remove the pot from the heat. Taste and season with more salt and pepper, if you'd like.
Serve with some savory pesto muffins and enjoy.