APRICOT – APPLE AND COCONUT ENERGY BALLS
Prep time: 5 minutes Total time: 15 minutes + 1 hour to chill Yields: 20 balls
INGREDIENTS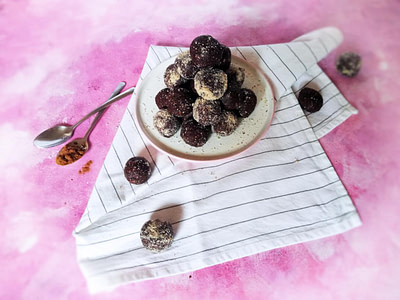 1 ½ cup ground almonds
1 packet of vanilla bean paste
1 cup dried apricots
1 small apple
1 ½ cup desiccated coconut
¼ cup water
1 tbsp honey
½ tbsp Cordyceps extract
Directions:
Place all the ingredients in a food processor (use only half of the desiccated coconut) and mix until you get a smooth paste. The mixture is quite wet, but don't worry you can form balls easily.
Scoop small amounts of the mixture into your hands and roll the balls, repeat until all the mixture is gone.
Now roll each ball in the remaining desiccated coconut.
Place the balls in the fridge for about an hour to chill and firm up.
Cordyceps yummy energy
These apricot coconut balls are just so yummy and will give you loads of energy, not just because of carbohydrates in them, but also because of Cordyceps extract that is known to boost your energy levels. They are great as a morning snack or before a workout or whenever you feel your energy is depleting and you need a pick me up.